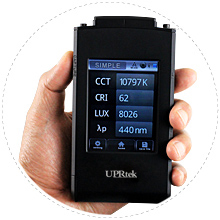 ◆ On-site measuring, in-time reading!
Just bring your portable MK350N to the site and point it directly to testing light source, then push "integrate button", the spectrum graphic will show up in no time, connecting to PC won't be a need anymore.
◆ Clear-cut data list, your reading is also clear at the first sight!
In Simple mode, you can also read CCT(Correlative Color Temperature)、CRI(Color Rendering Index)、Lux (Illuminance)、λP (Peak Wavellength) directly without the need of mode switching.